FREQUENTLY ASKED QUESTIONS
To sign-up with Project Bono, navigate to the "
Sign Up
" button at the top-right of our site. You may sign up by using your email and password or by using an existing accounts including: Facebook, Twitter, LinkedIn, Google, or Apple.
When using Sign-in with Apple, do not opt to hide your Email. Your accurate Email is needed to enroll in a course.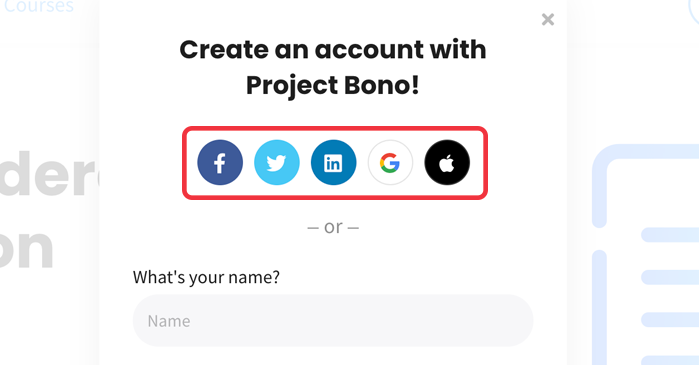 If you choose to manually input your information, fill in the required fields using: your name, email, password, birthday, address, and state. Accept the terms, then click on "Create an Account".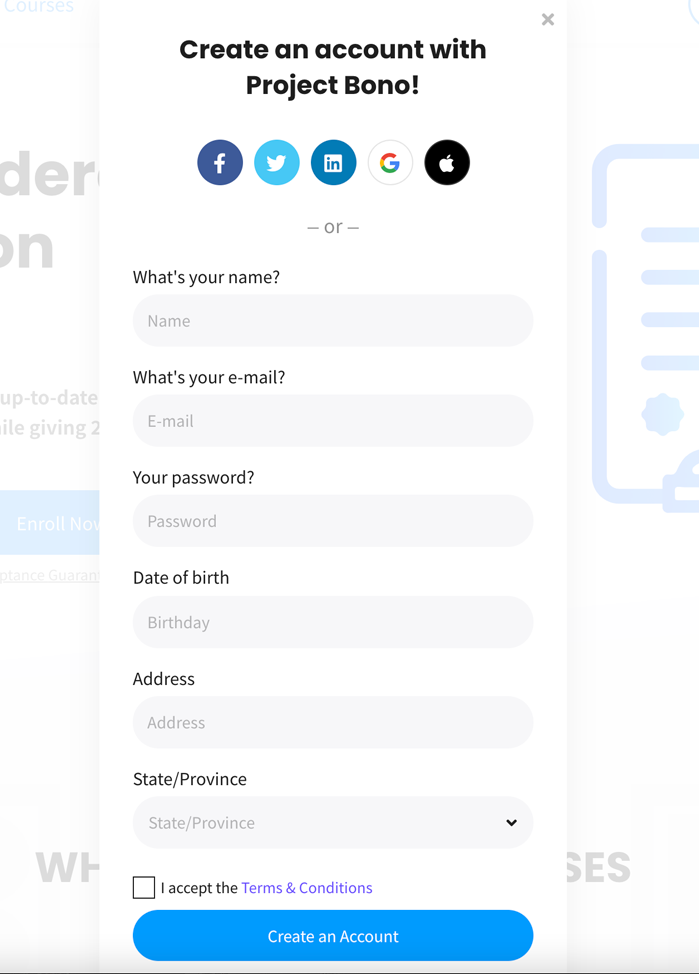 If you have any questions about signing-up,
contact us.
Problems Logging in to your account?
If you forget your password at any time, please use the "
Forgot your password?
" option.
If you signed up using an existing account like Facebook, Google, or Apple, you will need to reset your password on the platform you used.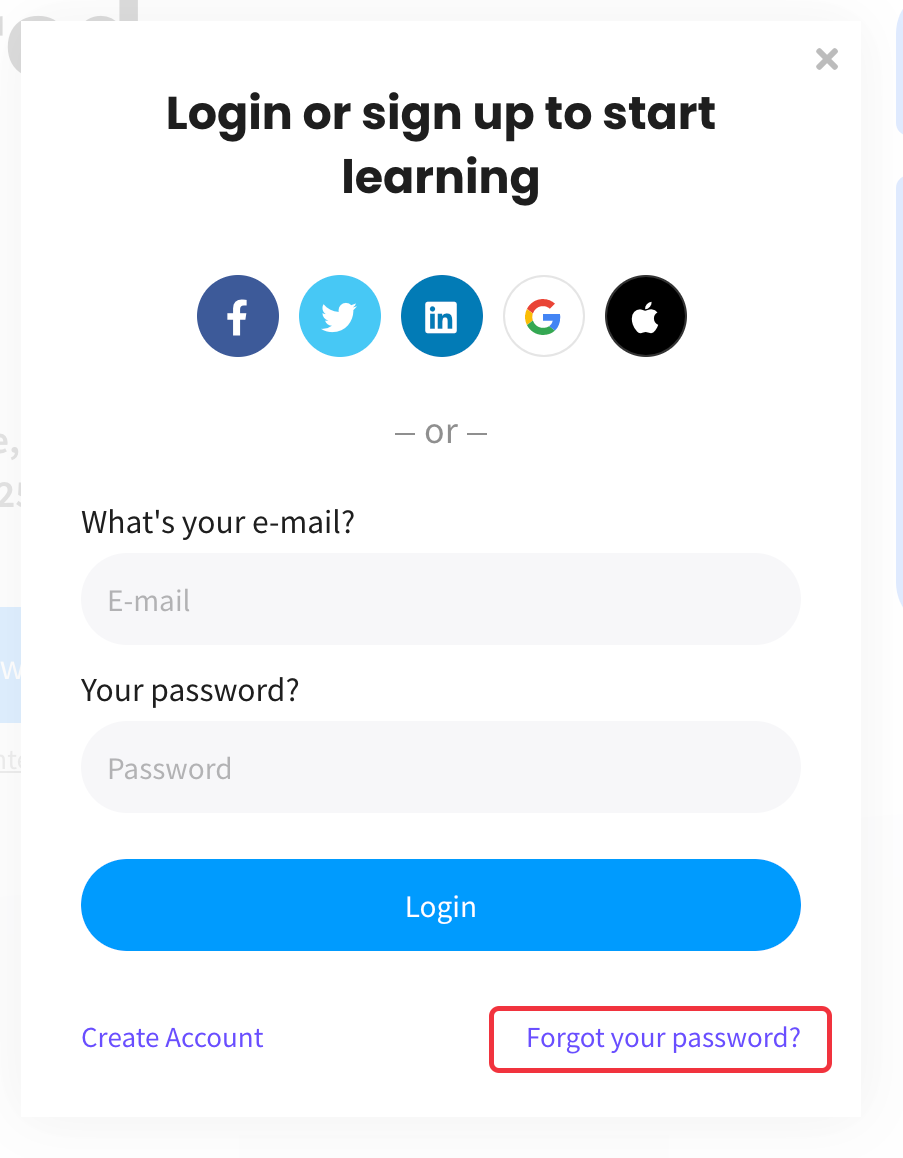 Type the email associated to your account and click Send. An email will be sent to you with a link for setting a new password for your account. If you don't see the email appearing in your Inbox, make sure to also check the spam folder as it may have been accidentally caught by your email's spam filter. If this is the case then make sure to identify this message as Not spam so that you don't lose any future correspondence from us.
How long are court-ordered courses?

We offer our courses in a number of time requirements. If you are required to complete a two (2) hour, four(4) hours, eight(8) hour course, etc. you should enroll into the specific course stated by your issuer as it will appear on your certificate.
We offer courses in the following time requirements. Certificates are granted when the time requirement is met.
| | | |
| --- | --- | --- |
| 2 Hours | 12 Hours | 1 Week |
| 4 Hours | 24 Hours | 2 Weeks |
| 6 Hours | 48 Hours | 4 Weeks |
| 8 Hours | 3 days | 2 Months |
| 10 Hours | 5 days | |
Am I able to pause the course?
You are able to exit the course and pick up where you left off from any device.
Please make sure you properly sign out before closing your browser.
When do I receive my certificate of completion?
Your unique certificate of completion will be available for instant download and for print upon completion of the course. Courses are considered complete when the time requirements are met and you have reached the final page of the course.

What my certificate is not accepted?
If your certificate of completion is not accepted by a member of the court, counselor, employer, administrator, or any other occupational, educational, or legal body –
please contact us
.
Our certificates come backed with a 30-day acceptance guarantee. If your certificate is not accepted for any reason, please provide us with documented proof of rejection.
We always recommend contacting your issuing party before purchasing any of our courses to confirm they will accept your certificate.

*Refunds exclude payments in cryptocurrency*
Will I receive proof of enrollment?
Proof of enrollment will be made available to you via Email and instant download in the form of an invoice. You may download proof of enrollment unlimited times at no additional cost to you.
Then click on the New message button.
What payment methods do you accept?
We accept Visa, Mastercard, Discover, American Express, as well as Apple Pay, Google Pay, and Venmo.
We also accept cryptocurrencies including: Bitcoin, Ethereum, Dogecoin, Litecoin, Bitcoin Cash, USD Coin, and DAI, with
Coinbase Commerce
.
I don't have a bank account, do you accept alternative methods?
Many households are unbanked. That's why we offer alternative methods of payment for those who do not have a bank account or under-qualify for lines of credit.
We offer the ability to pay with Venmo. We also accept cryptocurrencies including: Bitcoin, Ethereum, Dogecoin, Litecoin, Bitcoin Cash, USD Coin, DAI, and more with
Coinbase Commerce
.
We plan to integrate payment plans in the near future.
Where can I find my certificate?
Upon completion, your certificate is available for instant download from your profile.
Are your court courses available in other languages?
Many of our students that don't speak English utilize browser extensions in Safari and Google Chrome that provide live-translations in any language.
Do I have to be online at a specific time to take a course?
You can take our courses whenever and wherever you want. The courses remain online around the clock. All you need is internet access and a fairly modern browser.
Can I take more than one course at a time?
Yes. You can take as many courses as you wish.
What Browsers are Supported?
We support the latest versions of all well-known browsers. For optimal studying experience we recommend using Safari, Google Chrome, or Firefox.
Can I take the course on my iPad or tablet?
Our platform is fully responsive on most tablets. For an optimal experience, we recommend using a computer but you can use the Safari or Google Chrome app.
Can I take the course on my phone?
Our platform is fully responsive in all kinds of mobile devices. For an optimal experience, we recommend using a computer but you can use the Safari or Google Chrome app.
Is Internet Access Required?
Internet access is required. We recommend using a Wi-Fi or Ethernet connection rather than a cellular connection.
An internet connection and the latest version of your favorite browser.
Does access to my paid courses expire?
Once you have enrolled to a course, you will always have access. Reference our
Terms and Conditions
for more information.
How do I know that you have received my order?
Once your payment has been successfully processed, your course will be immediately accessible to you. If the course hasn't unlocked despite you payment going through, then please
contact us
to correct the issue ASAP
How soon will I get access to my courses?
You will get access to your course(s) immediately after you purchase the course.
How do I access a course that I have completed?
You can access your courses anytime simply by logging in to the platform and visiting
your profile
or the
My Courses
page.
Money-Back Guarantee
All of our courses are backed by a 30-day money back guarantee. If your certificate of completion is not accepted for any reason –
contact us
.
We recommend that you confirm with your mandate issuer that they will accept your certificate before you enroll in any of our courses.
Note: Cryptocurrency payments do not qualify.*
Course updates
Course contents and formatting are subject to improvements.

We are constantly monitoring current scientific and legislative data to provide you with the most accurate information within our courses. When you purchase any of our courses you are entitled to all future versions of the course.
Download and print PDF handouts to easily direct students to the correct course.