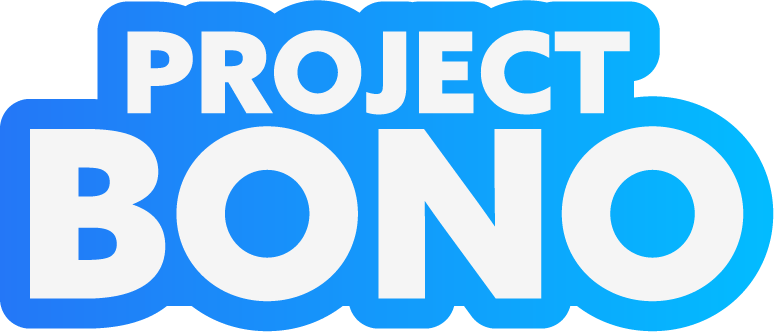 Payment Options
At Project Bono, we believe in providing our users with the flexibility to choose a payment option that works best for them. We accept a variety of payment methods, including:
Credit, Debit, and Prepaid Cards
Google Pay
Apple Pay
PayPal
Venmo
Cryptocurrencies with Coinbase Commerce
Empty space, drag to resize
Credit, Debit, and Prepaid Cards
We accept credit, debit, and prepaid cards because they are widely used and a familiar payment method for most people. These payment options offer a quick and easy checkout process, making it convenient for participants to complete their purchase without needing to create additional accounts or remember login credentials.
Empty space, drag to resize
Google Pay and Apple Pay
We accept Google Pay and Apple Pay because they offer a fast and secure checkout experience for our users. With these payment options, users can quickly complete their transaction using their stored payment information and biometric authentication, ensuring a convenient and secure checkout process.
Empty space, drag to resize
PayPal
PayPal is a widely recognized payment option used worldwide. PayPal offers a secure and easy way for users to make payments online without sharing their payment information with merchants.
Empty space, drag to resize
Venmo
We accept Venmo because it's an easy way for users to transfer money to friends and family, as well as make online purchases. Venmo's features also make it easy for users to split payments and track expenses with others. Venmo is a valuable payment option for our unbanked participants as well as our younger participants who might split enrollment fees with a parent or guardian.
Empty space, drag to resize
Cryptocurrencies with Coinbase Commerce
Coinbase Commerce is a trusted and secure platform for processing cryptocurrency payments, providing our participants with a safe and reliable way to enroll in our programs.
Cryptocurrencies provide individuals with the ability to transact without needing to rely on traditional financial institutions, which is a valuable payment option for our unbanked participants or for those who are on a budget and would prefer to utilize their crypto wallets when enrolling.
We accept the following cryptocurrencies:
Bitcoin
Ethereum
Dogecoin
Litecoin
Bitcoin Cash
USD Coin
Dai
Tether

Empty space, drag to resize
Notes:
Enrollments payed for using cryptocurrencies do not qualify for our acceptance guarantee.


Enrollments paid for using cryptocurrencies unfortunately do not meet the criteria for our unique value proposition, which involves contributing 25% of the proceeds to 501(c)(3) nonprofits and the communities that assign our programs.


Give feedback about this article
Empty space, drag to resize
Can't find the answer you're looking for?
Please reach out to us directly with your question.
Last updated: March 14th, 2023
Money-Back Guarantee
All of our courses are backed by a 30-day money-back guarantee. If your certificate of completion is not accepted,
contact us
with proof of decline.
We recommend you confirm that your assigner will accept our certificates before you enroll in any of our courses.
Note: Cryptocurrency payments do not qualify at this time.
Course updates
Course contents and formatting are subject to improvements.

We are constantly monitoring current scientific and legislative data to provide you with the most accurate information within our courses. When you purchase any of our courses you are entitled to all future versions of the course.
Printable
Handouts
Download and print PDF handouts to easily direct students to the correct course and start assigning!
Please select a course and page size.
You will be redirected to Google Drive.
How does Project Bono work?
Project Bono offers correctional education programs that aim to educate first-time and repeat offenders about the risks associated with substance abuse and harmful behaviors.

As you progress through our courses, you'll have access to various forms of media, including videos, to help you understand the material.

Once you've completed the course and met the time requirement, you'll receive a certificate of completion that you can share with your court, school, or employer.
One thing that makes Project Bono stand out is that we donate 25% of enrollment proceeds back to the communities that assign our programs.

This means that by assigning our programs, not only are individuals learning valuable life skills and building awareness, but they are also enriching the communities that assign our programs.

What Programs are offered?
We cover a wide range of topics including Drugs & Alcohol Awareness, Cannabis Education, Minor in Possession (MIP), Nicotine Prevention, Bullying Prevention, Anger Management, Theft Prevention, Truancy Prevention, and more.
We continuously update our programs to reflect current research and trends in substance abuse and other harmful behaviors.
If you forgot your password, you can reset it by clicking on the "
Forgot your password?
" link on the login page.
If you signed up with an existing social account and the
"
Forgot your password?
" solution doesn't work, you may need to change your password on the existing social account.
Can I take a course on my phone?
Yes!
All of our courses are accessible across any device with a web browser.

Can I take a course on my phone?
Project Bono is accessible to anyone with a web browser (such as Google Chrome, Safari, Microsoft Edge, etc.), and a stable internet connection. Whether you choose to participate from a desktop computer, laptop, tablet, or smartphone, you should be able to access our programs with ease.

Our website is designed to adjust to your device's screen size and resolution, making it easy to start a course on one device and pick up where you left off on another. If you have any questions about the technology required to participate in our programs, our support team is always here to help.
What if my certificate is not accepted?
If your certificate of completion is not accepted by a member of the court, counselor, employer, administrator, or any other occupational, educational, or legal assigner, please contact us.
Our certificates come backed with a 30-day acceptance guarantee. If your certificate is not accepted for any reason, please provide us with documented proof of rejection, such as an email or written statement from the assigner.
We always recommend contacting your issuing party before purchasing any of our courses to confirm they will accept your certificate. Please note that refunds in these cases are only granted within the 30-day guarantee period.
How do I request a refund?
If you need to request a refund for any reason, including if your certificate of completion is not accepted by your assignor, you can do so by sending us an email at
[email protected]
.
To enact our acceptance guarantee, please include in your email a written proof of decline from the assignor that includes a way of reaching them. If the request is within 30 days of your purchase and meets the criteria of our acceptance guarantee, we will process your refund promptly.
Please note that refunds that don't qualify for the acceptance guarantee, such as those requested outside of the 30-day window or for reasons other than non-acceptance by your assignor, are reviewed and issued on a case-by-case basis.
If you have any questions or concerns about requesting a refund, please don't hesitate to contact our customer support team at
[email protected]
.
Am I able to pause the course?
Yes, participants are able to pause the course and continue at any time, on any device. Our platform is designed to save your progress consistently while you participate in the course, so you can pick up right where you left off. Whether you need to take a break for a few hours or a few days, you can rest assured that your progress will be saved.
We want you to get the most out of our courses and achieve your goals, and that means being able to learn at your own pace and on your own schedule. So go ahead and take a break if you need to - we'll be here when you're ready to continue.
How long does it take to complete a course?
The time it takes to complete a course varies depending on the time requirement you choose. When you enroll in a course, the time requirement will be clearly stated on the course page, along with an estimated completion time based on that requirement.
If you're unsure about which time requirement to choose or have any other questions about course completion time, you should reach out to your assigning party.
What does the certificate look like?
Every certificate generated by Project Bono includes the following information: course title and time requirement, student's name, birth date, address, date of completion, and certificate verification link. This information is unique to each certificate and cannot be duplicated or edited.
We offer certificates in PDF format because it's the most efficient way to send documents over email, while also reducing paper, ink, energy, transportation, and overall costs required to mail a physical copy.
Remember, it's important to submit your certificate of completion to your assignor as soon as possible to avoid any complications. If you have any questions or issues, please contact our support team for assistance.
Acceptance Guarantee
Enhance your assurance with our 30-Day Acceptance Guarantee.
Whenever you enroll in a Project Bono program, you have the peace of mind knowing that our certificate is backed by our Acceptance Guarantee. If your certificate isn't embraced by the assigning entity, we've got you covered.

Simply provide us with a proof of decline, and we'll handle the rest.
◊ Acceptance Guarantee: Offer is only valid for 30 days from the date of certificate issuance and is available to participants within the U.S. The guarantee is subject to validation of the proof of non-acceptance provided by the enrollee. For detailed information regarding our policy, see support.projectbono.com/acceptance-guarantee.